New: create a Wheel of Fortune easily without technical skills!
Everyone loves rewards. Today, we're introducing the Wheel of Fortune, the latest addition to our catalogue of interactive campaign types and a visually stunning format to help you engage your visitors!
A fast and easy way to engage visitors and drive sales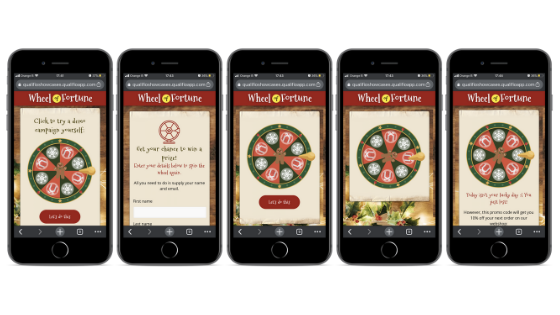 The Wheel of Fortune is one of the simplest and easiest ways to implement an interactive marketing campaign.
Provide an engaging experience for your visitors: Offer your users a moment of fun and a chance to win a prize by turning the Wheel of Fortune.
Collect data and build your email list: The Wheel of Fortune is a great option to incentivise customers to sign up for newsletters and enter contests.
Increase conversions: Use it to make your loyalty program more engaging, distribute coupons, generate leads, or embed the game in your social media channels.
View the Wheel of Fortune demo →
How does the Wheel of Fortune work?
Manage prizes offered to the participants, collect opt-ins and customer data, and integrate with coupon providers or upload your own unique codes. Plus, with our ready-made templates and the possibility to build your own, you can design your wheel any way you wish.
You can then use multiple publication options: embed the Wheel of Fortune in your website, customise the domain of a dedicated minisite, promote it as a banner ad or with our Promotional Pop-Ups.